After 3 days since the volunteers of Khalsa Aid from India have reached Bangladesh and Myanmar Border to start with the relief job for the Rohingya Muslims who are escaping Myanmar, the Sikh volunteers have now finally received official approval from the government to proceed with Guru Ka Langar. Before this, the volunteers were busy serving water and instant food items while they were waiting for the official permission.
In an interview over the phone, the managing director of India for Khalsa Aid, Mr. Amanpreet Singh said, "We served the first langar here on Thursday. We had already purchased the ingredients and raw materials like rice, veggies etc on the day when we got the permission. Our initial target is about 35000 meals per day. However, after witnessing the rise in the number of refugees, we will have to increase the capacity soon."
We have come across people in the miserable state and even children who have not had anything for days. We fear any situation of chaos that can happen here due to a large number of refugees. Currently, we already have 3 lakh refugees at the day. We cannot begin with so much food initially and the worst part is that most of them are in miserable condition and need food for survival."
Rice and vegetables were served on the first day of the langar. The volunteers also faced many difficulties while pursuing this noble deed. "When we went to the market to buy the raw material and the ingredients, the shopkeepers quoted double prices on witnessing us as outsiders. However, it was a good chance that many locals came to their rescue and helped them a lot in this trouble of theirs. But not all locals are so generous and their behavior varies at individual levels. While some are so compassionate to help that they travel long distances, while others look them as a burden."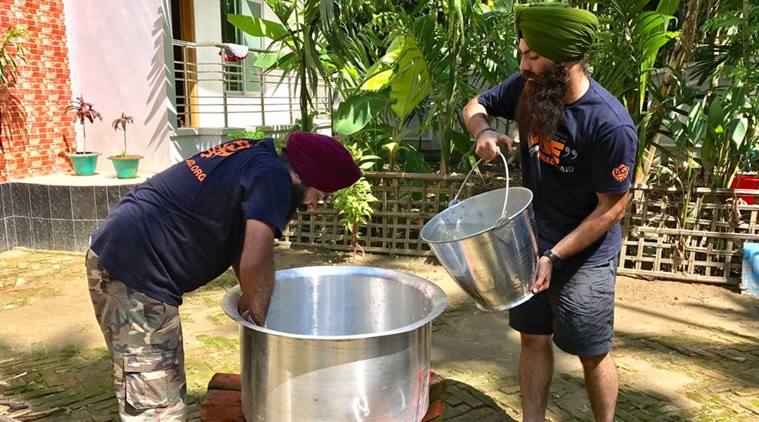 Before they served the langar, volunteers began with the Ardaas (prayer) and then served it.
I the meantime, the Khalsa aid volunteers have requested for funds to continue the langar seva. The organization has requested people to donate the same for the sake of humanity.